LA VOZ LATINA
---
Monday 12:00 - 1:00am
Hosted by: Daniel Vila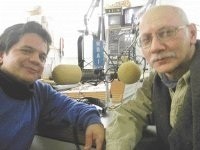 The show focuses on political issues effecting Latino communities.
Daniel Vila was born in Puerto Rico and grew up up in New York City, El Barrio of the 1950s and 60s. He studied at Borough of Manhattan Community College and City College. and was active in many of the student strikes and anti war marches of the period. After college went to work in the Garment District and was Shop Steward for Local 99 of the International Ladies Garment Workers Union.

After moving back to Puerto Rico, he was a member of the Puerto Rican Socialist Party. After 20 years returned to New York City and was a founding member of New York Labor Against the War. He was an organizer for the American Postal Workers Union for several years, participating in the campaign to organize DHL in Allentown, PA. He also helped to organize the original Collectivo Latino for WBAI's La Voz Latina around 2003.
Support this show
Become a BAI Buddy in the name of this show or make a one-time pledge HERE