GLOBAL BLACK EXPERIENCE / GLOBAL BEAT
---
Friday 7:00pm - 9:00pm
Hosted by: Imhotep Gary Byrd

Facebook:
http://www.facebook.com/pages/Imhotep-Gary-Byrd/67554806569
Twitter:
https://twitter.com/GBELIFE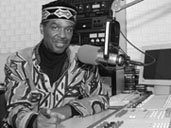 Global Black Experience / Global Beat present discs and discussions of African-American sounds and issues.

Imhotep Gary Byrd hosts both "The Global Black Experience", a culturally enlightening talk/interview presentation; and "The Global Beat Experience", which explores the full dimension of music across the globe.

Imhotep also pens a weekly column in the New York Amsterdam News.
Support this show
Become a BAI Buddy in the name of this show or make a one-time pledge HERE