LIQUID SOUND LOUNGE
---
Saturday 7:00pm - 10:00pm
Hosted by: Jeannie Hopper

Web Site:
http://www.liquidsoundlounge.com
Facebook:
https://www.facebook.com/LiquidSoundLounge/
Twitter:
@JeannieHopper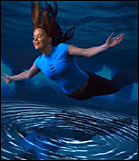 Liquid Sound Lounge
was born in 1993 on WBAI 99.5 FM and continues going strong, broadcasting Saturdays 7-10PM in New York City.
DJ Jeannie Hopper's vision brings together multi-rhythmic soulful grooves of all persuasions.
The show takes you on an intimate audio journey each week giving exposure to an underground community of independent artists, record labels and cultural movements. The music is not found anywhere on the commercial dial.
DJ, Producer & Host, Jeannie strives to exemplify new music that emulates the messages and energy of the 60s and 70s. The sonic mix leaves most at a loss when trying to confine the Liquid Sound Lounge style into a musical category. The show translates into a party making its way around the underground club scenes from Jazz to Deep House to Poetry spots and on the seasonal LSL Boat Cruises.
Jeannie Hopper started producing for WBAI in 1987 as a political reporter.
She traveled extensively and produced radio pieces documenting popular movements and human rights violations in El Salvador, Nicaragua, Panama and Palestine. She also worked with Creative Unity Collective (airing alternating Friday night/Saturday. mornings midnight-3:00 a.m.) in creating and participating in political satire skits and plays.
She continued doing sound design for various radio theater pieces including Martha Cinader's "Mission of Love" and "Dreamscape". She's produced radio specials for both public affairs and arts on WBAI.
She's the dj/host, creator and founder of Liquid Sound Lounge established in 1993 as a program dedicated to the soulful driven independent electronic music scenes. You can catch her DJ'ing around New York and globetrotting all over the world bringing the underground scenes together as a musical ambassador and cultural activist.
Steve Marshall has been a WBAI producer since 1987. He is an assistant on Liquid Sound Lounge.
Other Producers:
Steve Marshall
CAT
Reggie Johnson
Vincent Mulega