EVERYTHING OLD IS NEW AGAIN
---
Sundays 10:00pm-12:00am
Hosted by: David Kenney

Web Site:
https://www.oldisnew.org
Facebook:
https://www.facebook.com/oldisnewradio
Instagram:
https://www.instagram.com/oldisnewradio
Twitter:
https://twitter.com/oldisnewradio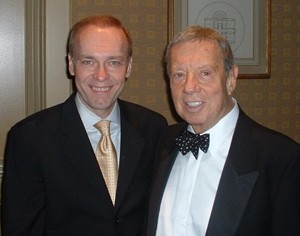 An unusual blend of Big Band, Swing, Jazz, Standards, Showtunes, Contemporary Cabaret and Celebrity Interviews!
The program expanded its focus to feature vocal groups and Big Bands, as well as solo performers. In addition to these "feature artist" segments, the show presents an unusual blend of big band Jazz, Swing, Standards, Show Tunes and Contemporary Cabaret.
The show was scheduled to debut in June 1979, but lacked a name and theme song. That May, David interviewed Peter Allen, then starring on Broadway in his one man show "UP IN ONE." The song "Everything Old is New Again" came up in the conversation and the two decided almost on the spot that the song should serve as the title and theme song for the broadcast.
David Kenney was awarded the BACKSTAGE Bistro Award for Outstanding Achievement in 2004. This Special Award given in recognition of his 25 Years as Host of EVERYTHING OLD IS NEW AGAIN and for his dedication and promotion of Cabaret.
Some of his celebrity interviews include: Liza Minnelli, Lena Horne, Johnny Mathis, Rita Moreno, Phoebe Snow, Shirley Jones, Keely Smith, and Michael Feinstein.
Support this show
Become a BAI Buddy in the name of this show or make a one-time pledge HERE