MORNING SHOW WITH MISTA OH - NUNU YORK EDITION
---
Friday 6:00am - 8:00am
Hosted by: Jerry Otero aka Mista Oh

Web Site:
https://cre8tiveyouthink.org
Facebook:
https://www.facebook.com/cre8tiveyouthink
Twitter:
https://twitter.com/Mista_Oh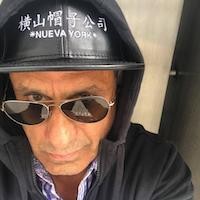 Together let's examine the city's contradictions and the dirty political underbelly of how things really go down when security is a growth industry - all this while celebrating our beauty and cultural diversity.
Jerry Otero, MA (aka Mista Oh) is the founder and chief troublemaker at cre8tivetyouthink.org. Trained as a psychologist, he has served as the youth policy manager at Drug Policy Alliance, assistant director of helpline and family services at the Partnership for Drugfree Kids and supervisor of NYC public high school drug education programs.