WOMEN'S MEDIA CENTER LIVE
---
2nd + 4th Friday of the month 5:00am-6:00am
Hosted by: Robin Morgan

Web Site:
http://www.womensmediacenter.com/
Facebook:
https://www.facebook.com/womensmediacenter
Twitter:
@womensmediacntr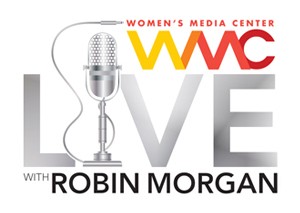 Women's Media Center Live with Robin Morgan is a nationally syndicated American radio show with an international audience in 110 countries around the globe. The weekly show is hosted by Robin Morgan, the award-winning author of over 20 books, political analyst, former editor in chief of Ms. Magazine, and, in 2005, co-founder (with Jane Fonda and Gloria Steinem) of The Women's Media Center.
Praised as "talk radio with a brain" by The Huffington Post, the show has enjoyed exponential ratings growth, not only because of its world-class host, but because of its world-class guests.
ABOUT ROBIN MORGAN
An award-winning poet, novelist, political theorist, feminist activist, journalist, editor, and best-selling author, Robin Morgan has published more than 20 books, including the now-classic anthologies Sisterhood Is Powerful, Sisterhood Is Global, and Sisterhood Is Forever: The Women's Anthology for A New Millennium. Recent books include: A Hot January: Poems 1996-1999; Saturday's Child: A Memoir; her best-selling The Demon Lover: The Roots of Terrorism; her new historical novel, The Burning Time; and her latest nonfiction work, Fighting Words: A Tool Kit for Combating the Religious Right.

A recipient of the National Endowment for the Arts Prize (Poetry) and numerous other honors, and a former Editor-in-Chief of Ms. magazine, she founded The Sisterhood Is Global Institute and co-founded The Women's Media Center. An architect and leader of contemporary U.S. feminism, she has also been a leader in the international women's movement for 30 years. She lives in New York City and has just finished a new novel.