LAW OF THE LAND WITH GLORIA J. BROWNE-MARSHALL
---
Tuesday, 9:00am - 10:00am
Hosted by: Gloria J. Browne-Marshall

Twitter:
https://twitter.com/GBrowneMarshall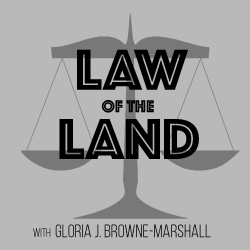 Law of the Land with Gloria J. Browne-Marshall evolved from a newspaper column then merged with a podcast to now deliver a radio program featuring legal analysis with a human touch. U.S. Supreme Court correspondent
Gloria J. Browne-Marshall looks beyond the cases to the impact of law on the people. Diverse legal issues and situations are explored without fear or favor, as host, author and civil rights attorney Browne-Marshall encourages, enlightens and empowers listeners with her nationally recognized guests, expert commentary, amusing insights and an unwavering focus on justice.
As a constitutional law professor who enjoys making complex issues understood by all, 'Law of the Land' levels the playing field and gives WBAI listeners a front row seat in the U.S. Supreme Court.
See a review of Gloria's book The Voting Rights War: The NAACP on the Ongoing Struggle for Justice
Support this show
Become a BAI Buddy in the name of this show or make a one-time pledge HERE