BEHIND THE NEWS - LONG ISLAND EDITION
Note: This program is no longer active on the WBAI schedule
---
Tuesday 6:30pm - 7:00pm
Hosted by: Serge Argueta

Facebook:
https://www.facebook.com/strongserg?fref=ts
Twitter:
strongserg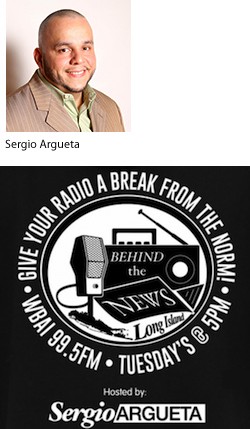 WBAI is spicing its afternoon drive-time line-up on Tuesdays with the new public affairs talk show "Behind the News - Long Island," hosted by long-time community activist
Sergio Argueta.
After years of organizing on a number of fronts in the Nassau and Suffolk area, Serge comes to WBAI with a commitment to sharing the experiences of a large part of the regional listening audience in the spirit of community radio.
Each week we'll hear about education issues on Long Island, the impact of the foreclosure crisis on poor communities in the suburbs, the struggles of youth and gang violence, police-community relations, immigrant rights and a whole lot more. Friend Serge on Facebook and give him suggestions, and be sure to tune in every Tuesday, 5:00 to 6:00pm on WBAI Radio!