SUGA' IN MY BOWL
Note: This program is no longer active on the WBAI schedule
---
Tuesday 10:00pm - Midnight
Hosted by: Joyce Jones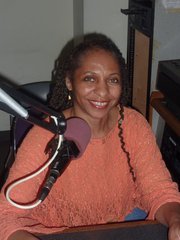 Features artists who perform Jazz or are Jazz inspired.
Joyce Jones, producer and host of Suga' In My Bowl, was introduced to volunteering with WBAI by answering the phones in the Tally Room during the membership drives. Before Joyce was granted this monthly music special, she had to learn how to operate the board, gather and edit sound from protests and varying community events that would be contributed to the WBAI Sunday Evening News with Sally O'Brien and Barbara Day and Wake Up Call, as well as provide and pitch premiums for the membership drives.
The first music special was on September 5, 2004, when Tony Ryan allowed Joyce to present a special on producer/arranger/composer Charles Stepney during the Soul Central Station time slot. In 2007, Joyce was granted a more regular monthly slot under the title of Suga' In My Bowl (a name that was suggested by a friend named Andrew), where it's been an honor to feature artists such as Nancy Wilson, Lou Donaldson, Patti Austin, Wayne Shorter, Freddie Hubbard, Yusef Lateef and many others.
Joyce has hosted and provided many of the artists for the live performance segments during WBAI's International Working Women's Day programming, which airs every March 8. She has also contributed segments for the Hip Hop Takeover with Ife Dancy as the Executive Producer.
Support this show
Become a BAI Buddy in the name of this show or make a one-time pledge HERE