RAPE DECLARATION FORUM - 1ST + 3RD FRIDAY OF THE MONTH
---
1st and 3rd Friday of every month, 5:00am - 6:00am
Hosted by: Rebecca Myles and Jaye Grayce

Twitter:
@RADIO_RDF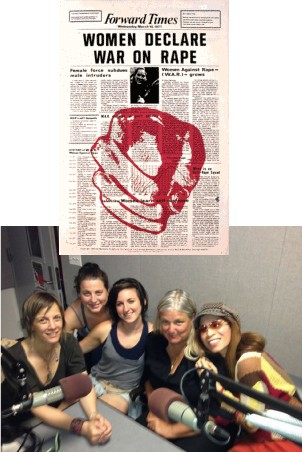 The Rape Declaration Forum is a radio program providing a virtual safe space for survivors to freely relate their stories of survival and methods for healing trauma. We take listener calls.
The show began as an experiment in radio on International Working Women's Day, the rape survivor guest, Jay Grayce, then became a co-host of the show, and went on to a career in radio and internet broadcasting with GrayceNYC.
The RDF show has aired original research on the state of rape services in New York hospitals. It has broadcast exclusive interviews with rape survivors whose experiences were the foundation of Senator Al Franken's amendment on ending protections for overseas contractors and rape victims and featured users of counseling services that were threatened with cuts from the New York City budget,regularly reaching back to previous guests for updates on their lives.