WBAI Morning News
---
- New York 01/14/2019 by Linda Perry (WBAI News)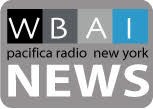 −Maduro counters U.S. coup attempt in Venezuela−Court challenge in Congo election−Marine Le Pen takes advantage of anti government protests in France to launch her anti-immigrant campaign.
−NYS Legislature addresses voting reforms in Albany today. Good government groups are watching−U.S. government partial shutdown is now in day 24.
−Please click the arrow above to hear our report.