Gov. Cuomo Signs into Law Sexual Assault Survivors' Bill of Rights
---
- New York 01/03/2019 by Jessica Brockington (WBAI)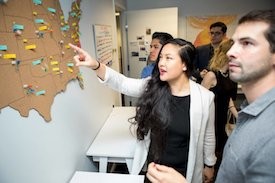 Survivors of sexual assault won a major victory in New York State over the holidays. Governor Andrew Cuomo signed legislation creating a Sexual Assault Survivors' Bill of Rights. Survivors of sexual assault in New York will now have access to appropriate health care services at no cost. They'll get free rape kits and forensic exams. And they'll have the right to know the status of their legal cases. The law will also require that rape kits be kept for 20 years.
This law is part of a nationwide movement to empower the survivors of sexual assault. And it's modeled on federal legislation that was signed in 2016 by President Obama.
Amanda Nguyen is the moving force behind this important new law. She's an astronaut-in-training and the CEO of RISE, a grassroots organization she created to help enact this law in every state. Amanda was raped in 2013 while she was a student at Harvard.
WBAI reached her in Vienna where she was part of a United Nations panel on human trafficking and the educational rights of girls. She says it's the best Christmas present she could ask for.
Please click the arrow to listen.