Cuomo's Green New Deal has Activists Seeing Red
---
- New York 12/19/2018 by Jessica Brockington (WBAI)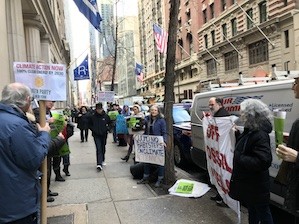 New York State Governor Andrew Cuomo was at the New York City Bar Association this week. He shared his legislative agenda for the first 100 days of 2019. His announcement to legalize recreational marijuana drew lots of attention. But climate change activists say his Green New Deal plan ignores New York State's ongoing billion-dollar investments in natural gas and fracking infrastructure. They say it falls dangerously short of addressing the impending disasters of climate change.
About a dozen demonstrators were in front of the building before his speech.
"Four years after he announced a ban on fracking in New York," Eric Weltman told those gathered. "We need Governor Cuomo to finish the job, to stop all fossil fuel and fracking infrastructure and move to New York to 100 percent renewable energy by the year 2030." Weltman is a Brooklyn-based organizer for Food and Water Watch.
Please click the arrow to listen.