Comments period closing on Trump's Public Charge Rule
---
- New York 12/06/2018 by Jessica Brockington (WBAI)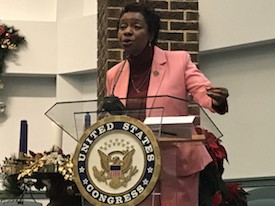 "Don't cancel your food stamps." That's the urgent message immigration advocates have for people pursuing their green cards. People are panicking right now over Donald Trump's proposed change to the Public Charge Rule.
Congress member Yvette Clarke is from Brooklyn's 9th District. She says her constituents are terrified. They'll be hit hard if Trump's new rule takes effect. On Monday, she held a community roundtable at the Lenox Road Baptist Church on Nostrand Avenue to get the word out that, so far, nothing has changed. But public action, she says, is essential.
"There are residents within our community who already withdrawing from the use of benefits that they are entitled to utilize and we cannot afford to put a, our communities at risk because of the fear of purse of prosecution that is coming from the White House. We have to stand in the gap. We have to stand in the gap for our community," Clarke says.
Please click the arrow to hear the story.