WBAI Evening News
---
- New York 09/20/2018 by Paul deRienzo (WBAI News)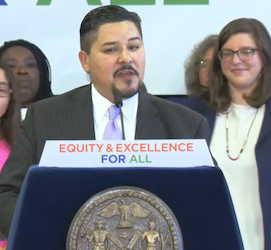 NYC Schools Chancellor Richard Carranza says the Department of Education is committed to backing a District 17 plan in Brooklyn to diversify middle schools and will spend money to support the changes. Councilmember Brad Lander who represents the district sent his children to the white majority school. He says although he has benefited from privilege, the time has come for change.
Assemblymember Dave Weprin is holding a press conference Friday at the Varick Street Detention Facility to highlight the plight of hundreds of undocumented immigrants who are being held at the Albany County Jail. Weprin is calling for the end of indefinite detention asylum seekers and other immigrants being held on administrative violations.​
Last year the NYC Council passed a law sponsored by Queens Council Member Rory Lancman and others requiring the Police Department to provide a demographic break down of arrests and civil summonses for fare evasions at each of the 400 subway stations around the city. The law says the NYPD must further break down the information based on demographics like race and age.
But Lancman says, three reporting periods have passed where the cops failed to do this. He says the NYPD is equally unresponsive to journalists, the citizenry and the City Council. Most importantly he says the information would probably show an extreme racial disparity in arrests based on race and neighborhood. He adds that the police doesn't want the information to become public.