Blue Wave Brings Down NY "IDC" Senators
---
- New York 09/14/2018 by Linda Perry (WBAI News)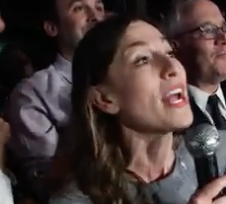 There was a big win for progressives in the New York State Primary last night. Six of the eight members of the Independent Democratic Conference were defeated. These were Democratic State Senators who voted with Republicans, allowing the Republicans to keep their leadership in the Senate and keep the legislative branch divided and dysfunctional.
In New York City, Alessandra Biaggi defeated IDC leader Jeff Klein in the Bronx; Zellnor Myrie beat Jesse Hamilton in Brooklyn; Robert Jackson beat Marisol Alcantara in Manhattan; and in Queens, John Liu and Jessica Ramos defeated Tony Avella and Jose Peralta.
Even though Governor Cuomo's rival, longtime education activist and actress Cynthia NIxon was defeated in the NY Primary, she credited her campaign for helping to push Cuomo to the left and show that liberals have a shot at making big changes.​ She said, 'The establishment came at us with everything they had but we wouldn't back down. We refused to be quiet and we made our voices heard." Nixon says she's not discouraged but encouraged. Today the mood is joyous and celebratory for left leaning Democrats who look forward to more wins in November.
Jumaane Williams, the Brooklyn Councilmember who challenged Kathy Hochul for Lieutenant Governor campaigned hard across the state and nearly won. He sent this message out to his supporters. "We did the damn thing. We shook up the world. We took on the New York political machine while running on pure activist energy and small-dollar contributions. Yesterday, we saw 640,000 New Yorkers come to the polls and vote for our shared vision for bringing an advocate for the people into Albany.
We shattered turnout records and expectations and we won New York City by more than than all mayoral candidates combined in the 2013 elections. We also received more votes than any person of color ever in a statewide primary."
A question now is whether Jumaane will run for NYC Public Advocate to replace the current Public Advocate, Tish James, who just won the Democratic nomination for NYS Attorney General. He'd be entering what may turn out to be a very crowded field with many current and former elected officials who are expressing interest.