Aretha Franklin's Homegoing
---
- 08/31/2018 by Linda Perry (WBAI)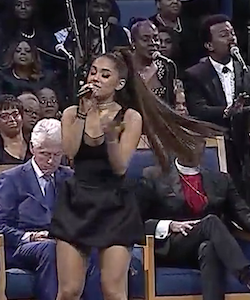 Aretha Franklin's homegoing service on Friday, August 31, 2018, was held at the Greater Grace Temple in her hometown of Detroit, Michigan. The Aretha Franklin Celebration Choir graced the congregation with their voices. Dignitaries, stars, some of the greatest voices of our time gathered to salute the Queen of Soul. They spoke about her powerful voice, the soundtrack of the civil rights movement. She was honored for her work on behalf of equal rights for all people, for her determination, humor, work ethic, her influence worldwide and for how she commanded respect.
Friends and family members gave tribute to Aretha, dressed in gold as she lay in a gold-plated coffin in front of the stage. Smokey Robinson sang directly to her. The Rev. Dr. Barber said, "her singing was liberation and was revolution in the major key." The Rev. Jesse Jackson, Rev. Joanne Watson, Isaiah Thomas, Rev. Al Sharpton, former President Bill Clinton, and others including Ron Isley, Clive Davis, Ariana Grande, Tyler Perry and Cicely Tyson spoke and sang in the daylong tribute honoring Aretha, who passed away at her home in Detroit of pancreatic cancer on August 16th. She was 76 years old.
In this WBAI two hour special, we hear some of these voices and pay tribute to the Queen of Soul.