WBAI Evening News
---
- 08/13/2018 by Paul deRienzo (WBAI News)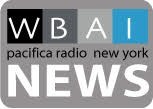 -White nationalists march in DC and Virginia but their numbers are small, while anti-fascists draw thousands in opposition.
-Fracking comes to New York in the form of support for the frackers, while Mexico's new President bans the practice.
-Donald Trump signs the largest defense budget in history
-And Aretha Franklin, the Queen of Soul is extremely ill.
Please click the arrow above for these stories and more.