Massive Protests Countrywide Against Trump For Separating Children From Parents
---
- New York 06/30/2018 (WBAI News)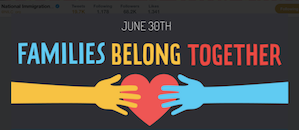 From coast to coast on Saturday, hundreds of thousands of people took part in more than 700 marches to protest the Trump administration's separation of children from parents at the U.S.-Mexico border. They want them reunited immediately. Protesters are worried about the children and horrified at the direction of the country criminalizing refugees, as well there's anger at lawmakers, private companies, and lenders who are benefiting from holding centers for children and immigrant families. They have been likened to private prisons which are operating throughout the United States. Protesters carried signs which read "All children are innocent," 'Never Again," "No more children in cages," and "What's next? Concentration Camps?"
Organizers estimate that 35,000 marched on the White House. 60,000 in Chicago, more than 70,000 in Los Angeles and 30,000 New Yorkers joined protests. Walking across the Brooklyn Bridge, demonstrators chanted "Shame," braving extreme heat. Throughout the country, hundreds were arrested.
WBAI's Mitchel Cohen caught up with Green Party Gubernatorial candidate Howie Hawkins at the rally. Please click the arrow above to hear his report.