Jumaane Williams & Cynthia Nixon - Indivisible Nation BK
---
- New York 06/07/2018 (WBAI Radio)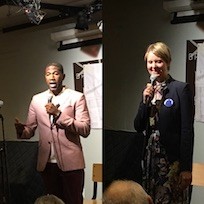 NYS Lieutenant Governor candidate Jumaane Williams and NYS Gubernatorial candidate Cynthia Nixon spoke at a meeting of Indivisible Nation BK in Brooklyn last night.
Nixon said, "There are so many things that we need to do and we can do in New York State for our people and to combat Donald Trump. We are in a terrible moment in our nation's history, but if we approach it in the right way, we are in a moment when progressive change state is possible like never before." The crowd was riveted.
NYC Councilmember from Brooklyn Jumaane Williams said, "We on the left have always made things popular for established democrats to talk about. They wouldn't be able to talk about legalizing weed. They wouldn't be talking about bail reform, if it wasn't for us pushing these issues and it's frustrating for me because we do it every single time and then they talk about party unity in the democratic world and that usually means- left – shut-up."
Indivisible Nation BK is part of a national group which pushes forward a progressive agenda and resists the Trump administration through meetings with elected officials, townhalls, letter writing, tabling and other political action. Please click the arrow above for audio of the event.