- New York 05/07/2018 by Linda Perry (WBAI News)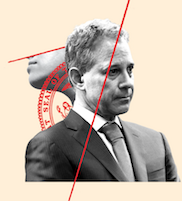 The resignation of Eric Schneiderman came swiftly Monday evening. It followed a
New Yorker
bombshell report detailing horrific allegations by four women who say Schneiderman was physically abusive, slapped and choked them, drank excessively and misused the power of his office through tactics of intimidation.
He announced his resignation about an hour after Governor Andrew Cuomo issued this statement: "The New Yorker has published an article on Attorney General Eric Schneiderman, which reports multiple women making serious allegations of assault. No one is above the law, including New York's top legal officer. I will be asking an appropriate New York District Attorney to commence an immediate investigation and proceed as the facts merit. My personal opinion is that, given the damning pattern of facts and corroboration laid out in the article, I do not believe it is possible for Eric Schneiderman to continue to serve as Attorney General, and for the good of the office, he should resign."
Senator Kirsten Gillibrand, as well as other elected officials including NYC Council Speaker Corey Johnson, also called for his resignation.
Then Schneiderman sent out this through his press office: "It's been my great honor and privilege to serve as Attorney General for the people of the State of New York. In the last several hours, serious allegations, which I strongly contest, have been made against me. While these allegations are unrelated to my professional conduct or the operations of the office, they will effectively prevent me from leading the office's work at this critical time. I therefore resign my office, effective at the close of business on May 8, 2018."
According to allegations verified by the New Yorker, Schneiderman who played a pivotal role in taking on #MeToo cases is no women's rights defender in his private life. One of the women who spoke on the record, Tanya Selvaratnam describes Schneiderman as "a Dr. Jekyll and Mr. Hyde" figure. She says she was sickened by seeing Schneiderman lauded as a supporter of women. "This is a man who has staked his entire career, his personal narrative, on being a champion for women publicly. But he abuses them privately. He needs to be called out."
The New York State Legislature will choose Schneiderman's replacement. Zephyr Teachout, Preet Bharara, Tish James and Kathleen Rice are among those being mentioned for the job.