- New York 04/04/2018 by Linda Perry (WBAI News)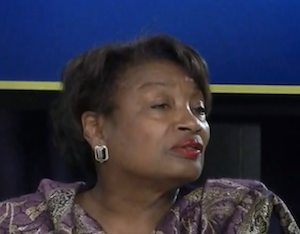 The Independent Democratic Caucus, New York State's 8 renegade Democrats who have been caucusing with Senate Republicans for more than seven years keeping them in the Senate majority, are said to be reuniting with mainstream Senate Democrats under Yonker's Senator Andrea Stewart-Cousins as the new majority leader with the IDC's Jeff Klein from the Bronx as Deputy.
Klein says Stewart-Cousins is a trailblazer. He says he feels comfortable and that the two of them will lead by example. Stewart-Cousins says, "We look forward to working with Senator Klein and the rest of our new Democratic Conference members to increase our numbers even more and govern responsibly for New Yorkers."
However, challengers to IDC seats say they won't back down and will still run. On Thursday at noon, there's a rally on the steps of the fountain at Foley Square addressing the proposed deal. Organizers at NO IDC, Empire State Indivisible and Make New York True Blue say, "We all know we can't trust the IDC, and they've betrayed Democratic voters for years. The best and only way to be rid of NY's Trump Democrats is to beat them at the polls."
Progressive IDC challengers Jessica Ramos, Robert Jackson, Alessandra Biaggi, Rachel May, Jasmine Robinson, Zellnor Myrie and John Duane released this statement: "In 2012, progressive forces united to win 33 Democratic State Senate seats. Your Independent Democratic Conference stole away this victory. Since then, we've had seven straight Republican budgets thanks to the IDC's continued support for Republicans.
"Because of your allegiance with the Republicans, the budget passed again this year with no Democratic State Senator at the negotiating table. Despite repeated requests, you refused to support rightful Democratic State Majority Leader Andrea Stewart-Cousins in the room for budget negotiations. The result is a deeply irresponsible budget that hurts working people, communities of color, students, and women in New York State."
Cynthia Nixon, the Governor's Democratic challenger, casts blame for division in the NYS Democratic Senate squarely on Governor Cuomo's shoulders. "For 8 years now, Andrew Cuomo claimed that he was powerless against the Independent Democratic Conference (IDC) that allowed Republicans to rule the New York State Senate.
"And because of his acquiescence to the power-sharing agreement with Republicans, a deeply progressive state like New York has missed out on the NY DREAM Act, criminal justice reform, ethics reform, voting reform, sexual harassment policies that protect women, full funding for schools and housing, a functional subway system and so much more.
"Then we came along. And in just two weeks he — surprise of surprises — found the power, and .. the IDC announced they would caucus with the Democratic Party."
At a news conference in Albany on Wednesday, in answer to a question by Zack Fink of Spectrum News, Governor Cuomo said Cynthia Nixon entering Governor's race has "nothing to do" with his decision to move up the timetable for a deal on Democratic unity in Senate. "Things come at the time they are ready to come." Cuomo said this is a time when NYS must unite to fight the Trump agenda in Washington because the attack on New York is unprecedented. Critics, however, contend that Cuomo could have pushed for this long ago.