- 02/03/2018 by Linda Perry (WBAI News)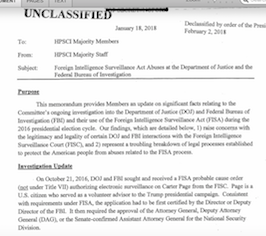 Instead of a deep dive into policy pushed in Donald Trump's State of the Union address, politicians along with the mainstream media have been obsessing over the Nunes memo. The document from House Intelligence Committee Chair Devin Nunes (R-Calif.),
here
via Politico, focuses on surveillance warrants for former Trump foreign policy adviser Carter Page.
It says the FBI used pro-Clinton/anti-Trump information from ex-British spy Christopher Steele to hone in on Page and authorize and then reauthorize surveillance without revealing connections in an abuse of FISA, the Foreign Intelligence Surveillance Act. Democrats say the memo is being used to undermine special counsel Robert Mueller's investigation into Russian inference in the 2016 presidential election.
On Friday Trump tweeted "The top Leadership and Investigators of the FBI and the Justice Department have politicized the sacred investigative process in favor of Democrats and against Republicans - something which would have been unthinkable just a short time ago. Rank & File are great people!"
On Saturday he continued @realDonaldTrump
"This memo totally vindicates "Trump" in probe. But the Russian Witch Hunt goes on and on. Their was no Collusion and there was no Obstruction (the word now used because, after one year of looking endlessly and finding NOTHING, collusion is dead). This is an American disgrace!
California representative Adam Shiff, the ranking Democrat on the Intelligence Committee answers Trump @RepAdamSchiff
"Quite the opposite, Mr. President. The most important fact disclosed in this otherwise shoddy memo was that FBI investigation began July 2016 with your advisor, Papadopoulos, who was secretly discussing stolen Clinton emails with the Russians."
According to former CIA analyst and peace activist Ray McGovern, the importance of the Nunes Memo is that it "Identifies current and former top officials of the FBI and the Department of Justice as guilty of the felony of misrepresenting evidence required to obtain a court warrant before surveilling American citizens." In Consortium News he writes, "With the media, including what used to be the progressive media, fully supporting the likes of Adam Schiff, and the FBI/CIA/NSA deep state likely to pull out all the stops, the die is now cast. We are in for a highly interesting time over the next months."