America's Pledge on Climate Change Action at COP23
---
- 11/14/2017 by Linda Perry (WBAI News)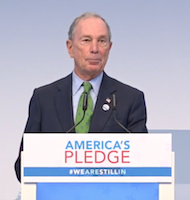 We're
#StillIn
. That's the message delivered to the international UN Climate Conference in Bonn Germany by U.S. business members, governors and mayors, despite Donald Trump's announcement that he is withdrawing from the Paris Climate Accord.
Led by former NYC Mayor Mike Bloomberg and California Governor Jerry Brown, climate leaders issued a pledge, called America's Pledge. It assures the international community that Trump and the federal government don't set climate action. They do.
Please click the arrow above for audio.