- 09/21/2017 (Governor Andrew Cuomo)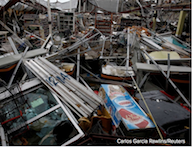 Governor Cuomo, NYPA Engineers, Translators and Supervisors and DEC Drones and Drone Pilots to Travel to Puerto Rico on First Available Fight - as early as Tomorrow Morning - to Assist with Reconstruction of Power Grid
JetBlue Plane to Transport Emergency Supplies to San Juan
New York National Guard on Standby to Depart in the Coming Days
New York Vows to Assist People of Puerto Rico with Relief and Recovery Efforts in Aftermath of Maria
Governor Ricardo Rosselló today made an official governor to governor request to Governor Andrew M. Cuomo through the Emergency Management Assistance Compact for goods and services to aid in recovery efforts in Puerto Rico following the devastation of Hurricane Maria. On the heels of this official request, Governor Cuomo will travel to Puerto Rico with key emergency response officials on the first available fight - as early as tomorrow morning - along with specialists critical to helping Puerto Rico repair its devastated power structure. In addition, New York will be delivering a variety of emergency supplies on a plane donated by JetBlue.
The New York Power Authority is also sending 10 engineers, planners, technical supervisors and translators along with drones and two drone pilots from the Department of Environmental Conservation to assist with the assessment and reconstruction of Puerto Rico's power grid. Additionally, Governor Cuomo has ordered the New York Army National Guard to be on standby to assist in the recovery effort in the coming days.
"New York is home to more Puerto Ricans than any other state in the country, and our hearts break for our Puerto Rican brothers and sisters as they begin to rebuild after the unimaginable devastation of Hurricane Maria," Governor Cuomo said. "We are sending requested resources and personnel to help the island rebuild, and we stand shoulder to shoulder with the Puerto Rican community in their time of need."
Governor Ricardo Rosselló said, "In the aftermath of Hurricane Maria, I have made an official Governor to Governor request that Governor Cuomo and the State of New York provide essential goods, services, and expertise to help us assess the devastation and develop a plan for recovery. Puerto Rico has endured an horrific ordeal and we are lucky to have a friend like Governor Cuomo and New York State who we share a close bond and deep history with. I want to thank the Governor for accepting my invitation to travel to Puerto Rico, and the people of New York for always standing by our side in difficult times and we appreciate the support as we begin the rebuilding process."
Robin Hayes, President and CEO, JetBlue, said, "We are honored to support this relief flight, the first of many to come, as the people of Puerto Rico begin to recover from this terrible event. Our hearts go out to all those impacted. We thank Gov. Cuomo for his leadership in the recovery efforts, and the National Guard for their on-the-ground support of the people of Puerto Rico. As the largest airline in Puerto Rico, we are in a unique position to work with them to support our crewmembers, customers and communities across the island."
Prior to departing, Governor Cuomo organization a coalition of organizations to provide a number of assets and essential resources at the request of Governor Rosselló. The New York Power Authority will also be meeting the Puerto Rico Electric Power Authority's request for a transmission damage assessment team. The team will include 10 staff comprised of transmission supervisors, generation and transmission engineers, transmission planners, and translators, along with drones and two drone pilots from the Department of Environmental Conservation.
The NYPA/DEC team's mission will be to help PREPA:
Conduct a comprehensive damage assessment of their generation, transmission and distribution system;
Prioritize the restoration and rebuilding work; and
Facilitate coordination between PREPA and the U.S. Electricity Subsector Coordinating Council comprised of the national utility trade organizations, such as the American Public Power Association, Edison Electric Institute, National Rural Electric Cooperative Association and relevant federal agencies, such as Federal Emergency Management Agency, Department of Energy and Department of Homeland Security, to coordinate mutual assistance resources to be deployed to Puerto Rico after we conduct the comprehensive damage assessment.
The delegation assembled by Governor Cuomo includes experts with a range of experience in incident management and disaster recovery at the local, state and federal levels dealing with crises such as Superstorm Sandy, Hurricane Irene and Tropical Storm Lee. During the assessment, the delegation will use this expertise to work with Puerto Rican officials to determine the state of critical infrastructure, as well as identify how best to allocate resources.
The delegation includes:
Colonel Isabel Smith, Chief of Staff, 53rd Troop Command, New York National Guard;
Roger Parrino, Commissioner of Department of Homeland Security and Emergency Services;
Gil Quinones, President and CEO of the New York Power Authority
Melissa DeRosa, Secretary to the Governor; and
Robert Mujica, New York State Budget Director.