WBAI Evening News
---
- New York and Washington 09/12/2017 by Linda Perry (WBAI News)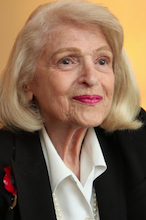 —Vt Senator Bernie Sanders is set to introduce his Medicare For All Bill. It has garnered 15 public co-sponsors so far including NY Senator Kirsten Gillibrand and NJ Senator Cory Booker.
—LGBT rights activist Edith Windsor, plaintiff in Supreme Court Case that struck down the Defense of Marriage Act in 2013, has died. She was 88 years old.
—Unsurprising but unsettling: The U.S. Department of Justice headed by former Alabama Senator Jeff Sessions won't bring federal charges against the six police officers involved in the arrest and death of Freddie Gray.
—The United Nations Security Council votes for more sanctions against North Korea over their weapons program, which Donald Trump then disparages.
—Nassau County representative Peter King is co-sponsoring anti immigrant legislation according to Make The Road New York. And Dreamers along with elected officials including members of the congressional Asian Pacific American Caucus speak up for Dreamers and passage of the Dream Act.
—Turning back to the sixteenth anniversary of September 11th, Benjamin Dixon of progressivearmy.com offers a commentary on the commemoration saying we know how to mourn our dead, "but we haven't figured out how to honor them by changing decisions which led to 9/11." And Pacifica Radio's Steve Brown reminds us of another September 11th anniversary, twenty-eight years ago in Chile.
—For these and other stories, please click the arrow above.