WBAI Evening News: Public Shaming of Hedgefund Billionaire - NYC Council's Women's Caucus Sounds the Alarm and More
---
- 08/24/2017 by Linda Perry (WBAI News)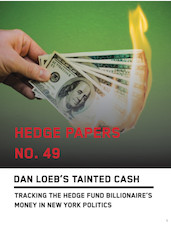 — A new Hedgeclipper Report on Billionaire Hedgefund Manager
Dan Loeb
outlines how he undercuts NYS Democratic Senators and yields influence over Governor Cuomo. New Yorkers rallied at City Hall to call for elected officials who have received money from Loeb to give it back. They say he has no business dealing with students and they want him out as Chair of Success Academy Charter Schools.
— Teachers are calling the NYS Standardized test scores virtually meaningless.
— The New York City Council's Womens Caucus is sounding the alarm on underrepresentation of women in New York City politics. Their new report shows only 13 city council seats out of 51 are held by women.
— The United Nations raises concerns over white supremacist racist slogans, chants and salutes at the Charlottesville rally. — The issue of statues and monuments came up in last night's debate between two of the Democratic mayoral candidates. We hear that exchange.
— Fraud in Florida and here in NY.
—These stories and more are on the WBAI Evening News. Please click the arrow above.