WBAI Evening News
---
- 08/15/2017 by Linda Perry (WBAI News)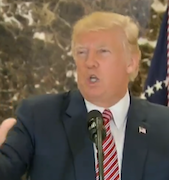 — "Not my President! Shame, shame, shame!" shouted protesters as Donald Trump came home to Trump Tower for the first time since the inauguration. Protesters are angry with his slowness to condemn the white nationalist rally in Charlottesville and upset with Trump's war mongering concerning North Korea. New Yorkers speak out.
—A fourth CEO resigned from Trump's manufacturing job's council.
—Donald Trump unhinged. At a news conference at Trump Tower in NYC, he doubles down on blaming "both sides" for violence in Charlottesville, Va. He said, "You had a group on one side that was bad and on the other side that was very violent." He wants to know if a statue of Robert E. Lee is to be torn down 'are we going to take down statues of George Washington or Thomas Jefferson?'
—Meanwhile the deadly rally in Charlottesville is accelerating the removal of Confederate statues and symbols throughout the country.
— The Congressional Budget Office released a report on the effect of Trump's plan to cut off insurance subsidies.
— International news on Venezuela, Nigeria, Taliban open letter to Trump on Afghanistan and aftermath of mudslide in Sierra Leone.