WBAI News
---
- New York 08/08/2017 by Linda Perry (WBAI News)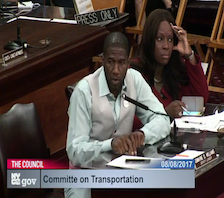 —New York City Council members demanded answers from the MTA at a Transportation Committee oversight hearing where the MTA asked the City for more funding. The newly appointed MTA Chair, Joe Lhota, was not present at the hearing. Instead he sent in Ronnie Hakim, the MTA manager and MTA budget Director Doug Johnson. Brooklyn Council Member Williams says Lhota not being present is disrespectful. He questions Hakim and then Johnson.
A number of Councilmembers spoke about problems constiuents are experiencing. Brooklyn Councilmember Chaim Deutsch is disgusted by the MTA's unresponsiveness to needs in his district. He says "You guys do not care about the people. You guys care about sugar coating every complaint that you get and that is unacceptable."
According Ydanis Rodriguez, Chair of the City Council's Transportation Committee, NYC should be able to think outside the box and look not only at governmental contributions from the City and the State, but from the private sector as well.
—Mayor Bill de Blasio has made Affordable Housing one of the central concerns of his administration and re-election campaign. However, at City Hall today, New Yorkers who struggle with homelessness gathered to highlight a major failing of the city's housing assistance programs. Matt Patterson tells us the vouchers system is preventing would-be tenants from securing apartments.
—Barbara Cook dies at 89 years old, surrounded by family and friends. Broadway dims its lights Wednesday evening in her memory.
— For these stories and more, please click the arrow above.