WBAI Evening News
---
- New York 08/07/2017 by Linda Perry (WBAI)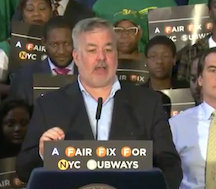 —There's a new plan to tax the rich in New York City. It would affect 32,000 of the richest New Yorkers, the top 1%. It could provide the City with up to $800 million in annual funding for the transit system and for New York City straphangers.
According to the plan, the Fair Fix Tax would be used as a dedicated funding source to fix the MTA system and modernize busses and subways. It would also provide 800,000 low income New Yorkers with 1/2 price metro cards. NYC Mayor Bill de Blasio, Congressmember Adriano Espaillat, Assemblymember Danny O'Donnell, NYS Senator Mike Gianaris, NYC Councilmember Ydanis Rodrigues and Manhattan Borough President Gale Brewer are among the electeds who back the plan.
—Bronx District Attorney Darcel Clark held an event over the weekend which gave New Yorkers with quality of life summonses and warrants Another Chance. More than 220 warrants were dismissed. And four of NYC's DA's are planning a blanket forgiveness event later this week for some ten year old summonses.
— How NYCHA fails seniors was front and center at City Hall today. NYC Public Advocate Tish James says the City's Housing Authority is denying seniors the right to have family members move in to care for them. Matt Patterson reports from City Hall.
—Please click the arrow above to listen.