New Yorkers Protest Trump's Transgender Ban
---
- New York 07/26/2017 by Andrea Sears (NY News Connection)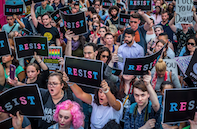 New Yorkers took to the streets Wednesday to protest Donald Trump's announcement that transgender people will not be allowed to serve in the U-S military. New York's elected officials and civil liberties organizations were quick to condemn the policy shift outlined in three early-morning posts to Trump's Twitter account.
Equality New York, an L-G-B-T rights group, quickly organized a protest rally outside the Times Square military recruiting station where Gabriel Blau, co-chair of the group, said they would deliver a clear message to Donald Trump.
Please click the arrow above for a report by Andrea Sears.