The Senate Debates Trumpcare
---
- 07/26/2017 by Linda Perry (WBAI News)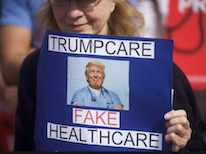 51-50. That was the vote in the Senate on Tuesday to advance the GOP Healthcare Bill. Arizona Sen. John McCain battling brain cancer returned to the Senate to vote yes. Mike Pence was the 51st vote breaking the tie.
New York Sen. Kirsten Gillibrand tweeted "I'm hard-pressed to remember a vote in U.S. Senate that has treated the American people with less respect." Vermont Sen. Bernie Sanders told an NAACP conference that we not only have to defeat Trumpcare, but "move forward with Medicare for All Single Payer Healthcare program." Meanwhile, Donald Trump told supporters at a rally in Youngstown, Ohio they are one step closer "to liberation from the "Obamacare nightmare." Refuse Fascism was there. They unfurled a "Trump & Pence Must Go!" banner.
Then last night, by a 57-43 roll call vote, the Senate blocked a Mitch McConnell proposal which included Ted Cruz's "Consumer Freedom Option." It would have allowed insurance companies to sell plans with minimal coverage and the McConnell plan had Medicaid cuts and it removed tax penalties on people not having insurance. The vote tally calls into question what Republicans can achieve in their quest to repeal and replace Obamacare.
Meanwhile the Senate debated a repeal and two-year delay option on Wedneday. Oregon Sen Ron Wyden quoting the Congressional Budget Office says half of Americans would have no health insurance under the scheme. "This amounts to medical malpractice."
"We have not heard from one doctor or from hospital administrators on the impact of this legislation." says Vt. Sen Sanders in an exchange with Wyden: "And older working people?" asks Sanders of Wyden. "The AARP also not been in front of the Senate Finance Committee" answers Wyden. "They are overwhelmingly opposed to this and get fewer tax breaks."
"And Medicaid pays for two out of three nursing homes in this country and a massive cut in Medicaid would be devastating to those families who have a loved one in mursing homes" says Sanders and Wyden adds "They would have nowhere to turn for opioid coverage."
Michigan Sen Debbie Stabenow says "Isn't there nothing that would lower prescription drugs, but tax cuts for prescription drug companies?" "Yes there is nothing in these bills to hold down the cost of pharmaceuticals" answers Wyden, Finance Committee ranking member. Washington Sen. Maria Cantwell says she hopes Republicans will heed the warning of Democratic and Republican Governors. They want to protect Medicaid coverage throughout the U.S. and the Senate to come up with a bipartisan healthcare bill.
Wednesday afternoon, the Senate rejected the repeal without replace plan in a 55-45 vote. 7 Republicans joined all Senate Democrats to defeat the measure.