WBAI News
---
- 07/19/2017 by Linda Perry (WBAI News)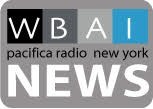 —Next step in Republican's war on Obamacare is repeal which would wreak havoc on the healthcare system and leave 32 million uninsured according to the
Congressional Budget Office
,
—Supreme Court upholds lower court order which expands definition of family relations for travelers from six mostly Muslim nations, but it continues to block refugees who would work with U.S. resettlement agencies from entry.
— Borough President Eric Adams on an independent commission to investigate the wrongful convictions crisis in Brooklyn.
—A look at a complaint filed by the Campaign Legal Center and other watchdog groups against Don Trump Jr., Jared Kushner, Paul Mannafort and Rob Goldstone.for violation of the Federal Campaign Act.
—;Refuse Fascism mobilizes in its fight against the Trump/Pence administration
—And residents along the Hudson aren't satisfied with General Electric's clean up of PCB's it dumped in the river.
—For these and other stories, please click the arrow above.