WBAI News Conference at City Hall on Struggle with Owner of Empire State Building
---
- City Hall, New York City 07/13/2017 by Linda Perry (WBAI News)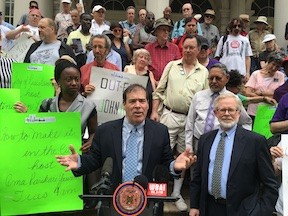 —
WBAI Listeners, Elected Officials and Staff rallied at City Hall
to stand united against threats from the parent company of the Empire State Building, Empire State Realty Trust, which houses our transmitter.
The Station and the Pacifica Network is fighting back against a lawsuit which could bankrupt the foundation. Empire State Realty Trust is demanding over $2 million for unpaid tower lease costs, and it's holding the network hostage in an annually escalating contract involving increases of about 9% per year, four times the market rate, about $12,000 a month. For the month of May 2017, it charged WBAI over $53,000!
The news conference at City Hall was well attended. It shows widespread support from elected officials and community members for New York's iconic station. Speakers urge Empire State Realty Trust to reach common ground and negotiate in good faith with WBAI and the Pacifica Radio Network.
—New York State Assemblymember Richard Gottfried says he doesn't expect Empire State Building to make charitable contributions to WBAI, but he does expect them to be good citizens. "You know the New York Metropolitan area is very good to the Empire State Building. The Empire State Building should give back a little to the Metropolitan area and helping to keep WBAI alive I believe is a reasonable piece of their corporate responsibility, so I say to the Empire State Building you are part of New York. Do the right thing as New Yorkers."
—Speaker after speaker paid tribute to the long history of WBAI in the New York media landscape and spoke out about it's importance now in the age of Donald Trump. Brooklyn Council Member Jumaane Williams says when we look back under the orange man's years, we're going to see a lot of bad things and one of the things we're going to be looking back on is what's happening with the press. "We have to have places where the public can feel comfortable going, where they feel they have a part and a stake in the news that is put out and there is none bigger than WBAI." Williams says, "We have to do whatever we can to make sure this station remains." Then he led a chant, "Too public to fail! Too Public To Fail!"
—WBAI Radio Hip Hop host Rebel Diaz says, "We can't let this be the example in New York that Donald Trump realtors and the realtor folks are going to win. If we gotta shut down the Empire State, whatever we gotta do, we gonna do it to keep BAI alive because right now what we're living in this country is a communicational war. We gotta call it for what it is in which these corporations and main media are imposing values and views which are about holding people down and WBAI is about the liberation of our communities. Diaz says Hip Hop is going to continue support the station.
—And there's more. Please click the arrow above to hear our reportt and thanks to Joe Friendly, video of the entire news conference is below.