WBAI Evening News
---
- 06/22/2017 by Linda Perry (WBAI News)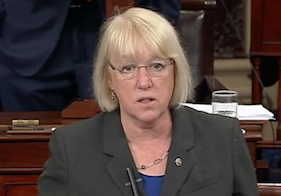 —Senate Republicans release their health care bill which was drafted behind closed doors by 13 white men. It guts federal funding to Planned Parenthood and to abortions nationwide, unless a woman's life is in danger. It removes the individual mandate, so young people could opt out of health coverage, thereby taking some young healthy people out of insurance pools and it removes penalties for large companies which don't offer coverage for their employees. And the Republican bill reduces federal Medicaid funding, lets states get waivers for some coverage and repeals taxes on the wealthy. While Donald Trump called the Republican House bill "mean," the bill which Senate Republicans call a
Discussion Draft H. R. 1628
was widely criticized by Democrats today as very, very mean and both sides of the aisle disagreed on how to proceed.
—Democratic House Minority Leader Nancy Pelosi defended her leadership against criticism over the loss in Georgia.
— The NYS legislative session ended last night without an extension of Mayoral Control over New York City Public Schools. Ben Max with Gotham Gazette explains. —A coalition of anti-nuclear and environmental groups was in court this week for a hearing on motions in the lawsuit to stop the New York Public Service Commission's multi-billion-dollar subsidy of nuclear power plants. Andrea Sears reports. — A Federal Judge approved a schedule for written arguments in a victory for the Standing Rock, Cheyenne River and two other Sioux Tribes. Earth Mum has the story.
—Saudi Arabia now has a new Crown Prince who shares Trump's hawkish views on Iran. We go to Lehman College Political Science Professor Hamideh Sedghi for insight into entanglements and interests in that part of the world.
— Please click the arrow above for audio.