Comey Says Interactions with Trump made him uneasy
---
- 06/08/2017 by Linda Perry (WBAI News)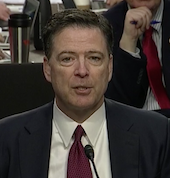 James Comey's written testimony about interactions with Donald Trump forms the basis of questioning at the Senate Intelligence Committee hearing on Thursday. It offers an understanding of what is being alleged by Comey, as well as why he felt he needed to "memorialize" his conversations with Trump after each interaction. It was released on Wednesday in advance of the hearing and details three face-to-face meetings with Trump and a number of telephone conversations which Comey says were confusing. Comey also notates interactions with Jeff Sessions.
Linda reads the testimony and follows it with excerpts from Comey's testimony at Thursday's Senate Intelligence Committee hearing.
Please click the arrow above for audio.