Notes from the Left Forum Part Two
---
- New York City 06/06/2017 by Linda Perry (WBAI News)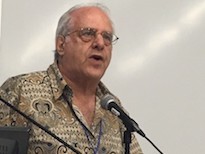 The conference titled
Resistance
was held in New York City June 2nd through June 4th. It looked at questions of power, strategy and tactics as resistance to Donald Trump rises.The focus of many panels this year was on moving beyond Trump into an examination of the system which produced him.
This program is drawn from a panel by Democracy at Work called Economy and Psychology: A Tale of Two Depressions with Economics Professor Rick Wolff and Psychotherapist Dr. Harriet Fraad.
Please press the arrow above for audio.