WBAI Evening News
---
- 03/15/2017 by Linda Perry (WBAI News)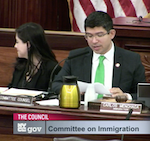 —Justice department charges Russian intelligence agents for 2014 hack of 500 million Yahoo accounts.
— House Intelligence Committee ranking members say there's no evidence to substantiate Trump claims that Obama wiretapped Trump Towers.
—Lawyers fighting Trump's travel ban say it's still a Muslim ban.
—The NYC Council's Immigration Committee holds hearing into the effects of Trump's immigration policy and what can be done to ensure that New Yorker's rights are protected.