Lynne Stewart: Death and Life
---
- New York 03/13/2017 by Sally OBrien, Bob Lederer, John Riley (WBAI News)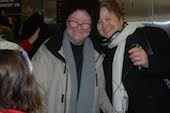 As we reported last Wednesday, on March 7th at 7PM radical human rights attorney, Lynne Stewart, died after a long battle with cancer complicated by recent strokes. The 77 year old died at home with her husband of 56 years, Ralph Poynter, at her side and surrounded by grandchildren and other family and friends.
Lynne was celebrated in an hour-long service Saturday morning at the historic St, Mark's Church on the Bowery. The ample sanctuary was overflowing with hundreds filling in the standing room only spaces in the back.
Please click the arrow above for a retrospective on the remarkable life of this widely admired People's Lawyer. For more information on Lynne's life, and some of the many tributes that have been pouring in, go to www.lynnestewart.org.
A public memorial for Lynne Stewart will be held on Saturday, April 22nd at St. Peter's Church in Manhattan. We will post further details when they become available.