ICE Raids Under Trump
---
- New York 02/13/2017 by Linda Perry (WBAI News)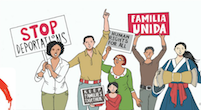 Arrests by US Immigration, Customs Enforcement have intensified with Donald Trump in office. Raids in California, Georgia, Texas, Arizona, Kansas, Virginia, South and North Carolina and here in New York.
The Immigrant Defense Project has a tool kit which you can go to here. It tells you what you need to know to protect your rights. ICE says 41 were arrested in the New York area in recent days as part of a targeted enforcement operation. Make the Road New York's Deborah Axt says the critical thing is to never open the door for ICE absent a warrant.
Make the Road tweets: If you have 1st hand knowledge of #ICEraids report it by calling @ImmDefense at 212-725-6422. Don't spread rumors & stay calm! We can do it!
And Legal Aid has a 24 hour Hot Line for help or information: 844 955-3425.
Please click the arrow above to hear more.