WBAI Evening News
---
- 02/06/2017 by Linda Perry (WBAI News)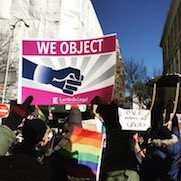 Resistance against Donald Trump and opposition to his policies continued throughout the weekend, into the beginning of the week and there is every indication resistance will continue.
Protests were staged against Trump's immigrant and refugee ban, against his executive order reviewing Dodd-Frank and against his action to advance the approval of the Dakota Access Pipeline. The LGBTQ community, the Yeminite community, Hedgeclippers, NY Communities for Change, Water Protectors and Rabbis were among those who rallied against Trump's attacks on human rights.
Please click the arrow above to hear our report and support the WBAI News and listener sponsored WBAI in NY. Please click here and become a WBAI buddy. And Thank You!