NYC Council's Progressive Caucus Denounces Donald Trump's Executive Orders
---
- New York City 02/02/2017 by Linda Perry (WBAI NEWS)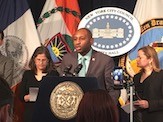 This week the New York City Council's Progressive Caucus gathered with community advocates on the steps of City Hall to show resistance to Donald Trump and denounce his executive orders which attack New York values.
Queens Council Member Donovan Richards says "We're going to have to grow a spine here and that's the biggest message we can send to our friends in the Senate. The City Council will not waiver at any opportunity to defend New York City and to keep New York City a Sanctuary City."
Please click the link above to hear from the Progressive Caucus of the New York City Council as well as community advocates speaking at City Hall.