WBAI Evening News
---
- 01/17/2017 by Linda Perry (WBAI News)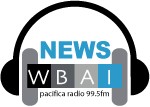 —President Obama commutes the sentences of Chelsea Manning, Oscar Lopez and shortens the sentences of 207 others.
— Real Estate Mogul and Reality TV Star Donald Trump's Presidency is looming large on the World Stage. We look briefly at concerns in China, Iran, Venezuela, Britain where PM May says her country will totally back out of the EU
—Ukraine filed suit against Russia in World Court for annexing Crimea
—David Cobb from the Greens Stein/Baraka campaign on this week of protests in Washington — Fran Luck on the Women's March on Washington
—Loretta Lynch gives her final speech as US AG
—Departmental hearing for Richard Haste, NYPD officer who shot and killed Ramarley Graham begins. Bronx Council Member Andy King was there and shares his observations.
—New trouble at Standing Rock as Energy Transfer Partners tries to make an end run around the U.S. Army Corps of Engineers who ordered an environmental impact study. Earth Mum reports police are still targetting Water Protectors
and more..