- New York City 12/29/2016 by George Gresham, President of 1199SEIU (Queens Chronicle)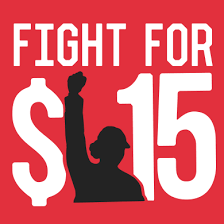 Although these are trying and uncertain times, members of 1199SEIU have reason to celebrate. In 2017, all 1199ers working in New York City, along with other low-wage workers, will receive the first installment of raises that will eventually take them to a $15-an-hour minimum wage.
And it is a raise well-earned. Our members, an integral component of the now international "Fight for $15" campaign, worked incessantly, braving bitterly cold conditions to march and rally in Albany, New York, and other cities and towns across New York state.
The result was a smashing victory.
Last April, Gov. Cuomo signed into law a bill that requires city businesses to provide a $15-an-hour minimum by the end of 2018. The law also includes 12-weeks paid family leave.
The "Fight for $15" is not just about healthcare workers, it is about the future of all low-wage jobs moving forward, and the quality of care seniors and the disabled receive from our 70,000 home care workers.
By raising up our low-wage workers, we can put upward pressure on employers to improve wages for all workers. The campaign also represents an important front in the battle against widening income inequality, which undermines our economy and our democracy
Some may believe that these raises don't amount to much. How wrong they are. For many of our members, the extra money they'll be receiving spells the difference between paying an essential bill and worrying about the serious consequences of not doing so.
Anna Couch has worked in home care for 12 years. Each day, she commutes nearly two hours to her work assignment in Queens. "I feel at ease," she says. "We've been struggling for a long time. Homecare workers have had it tough. Many of my co-workers are working 24-hour shifts, and a four-hour round trip commute isn't easy either. My biggest worry financially is the rent. This raise will make things better. Now, after paying bills, I might go out to dinner every couple of months, and maybe buy some clothes. The Fight for $15 was worth it because before, homecare workers were invisible."
The increases will mean that the hard work of these dedicated caregivers is validated. This is true for healthcare workers, as well as our brothers and sisters working in fast-food establishments, airports, child care, retail, academia (adjuncts) and other low-wage jobs
We also know that the path to $15 an hour may contain some roadblocks and detours. Although we have the full support of our mayor and governor, there are those who would snatch away these hard won gains.
That is why 1199SEIU will be marching shoulder to shoulder with our allies to defend the gains of the Obama administration from the incoming president, who is seeking to turn back the clock. For example, the president-elect has named cabinet members to oversee departments they have previously sought to destroy. One such person is the proposed labor secretary Andrew Puzder, the chief executive of the company that operates the fast-food restaurants Carl's Jr. and Hardee's.
Puzder not only is opposed to a $15 minimum, he has spoken out against a federal minimum wage, which today stands at a paltry $7.25 an hour. Also, when the Obama administration investigated thousands of worker complaints at fast-food restaurants, it found violations – mostly over wages – at 60 percent of investigations at Carl's Jr. and Hardee's.
The challenges ahead will not deter us. We will complete Fight for $15. There will be no turning back as we move forward in 2017 with our allies and all people of conscience in our continued commitment to good jobs at fair wages for all New Yorkers.
1199SEIU United Healthcare Workers East is the largest union in New York and the largest healthcare workers union in the nation. They represent over 200,000 healthcare workers in the greater New York City area and over 400,000 total members throughout the East Coast. Their mission is to achieve quality healthcare and good jobs for all.
George Gresham is President of 1199SEIU.