WBAI Evening News
---
- New York 12/21/2016 by Linda Perry (WBAI)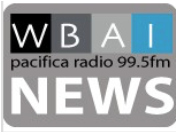 -Winter Solstice today
-Win for the Environment in the Arctic
-Alarm over Trump nomination of David Friedman as Ambassador to Israel
-NY Activists protest Trump nomination of Tom Price for Secretary of Health and Human Services and fight to protect Obamacare and Medicaid
-NY Leaders push to sign up more New Yorkers for Obamacare to pushback against Trump and efforts by his administration to repeal the Affordable Health Care Act.
-Trump has lowest approval rating of any incoming President.
-Loudon Wainwright-I had a dream Trump was President
-Alice Slater, NY Peace Activist and UN representative from the Nuclear Age Peace Foundation on U.S. claims Russia interfered with Presidential Election which she calls a red herring
-Four more charged in the criminal investigation into the tainted water crisis in Flint, Michigan
-We go out with a holiday carol from the Nasty Women's Choir of NYC in reaction to Donald Trump and cabinet picks who would seek to turn back the clock on Women's health.