New Yorkers Say Donald Trump Doesn't Reflect New York Values
---
- 12/19/2016 by Linda Perry (WBAI News)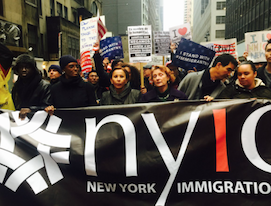 New Yorkers are standing up to the President-elect and the nominees he is trying to put in his cabinet.
NYC Council Member Ydanis Rodriguez represents Northern Manhattan. He says our nation should not go backwards to the 1950s, during the time of segregation.
"And there's many factors that Donald Trump is putting in place that reminds me of those years. First of all, the cabinet doesn't look like the nation. It's a male, white cabinet that he's putting together. There are no women, he has only one. There's no gays and lesbian representation. There's not one Latino cabinet member." Worse than that says Rodriguez, "they don't have any experience in the fields for which they've been nominated."
The Council Member is marching from the United Nations to Trump Tower, after a rally for immigrant rights near the United Nations. It's a rainy, balmy Sunday. 1199 SEIU has handed out yellow ponchos which say United Healthcare Workers: Quality Care and Good Jobs For All. A woman holds a sign with red and white stripes. It says I pledge to Protect Immigrant New York. Others hold the same sign. A woman stares at the podium holding a photo of a father with his baby tucked into his coat. It says Refugees Are Welcome Here. Another sign says Our New York Immigrant New York.
"Only soldiers of justice will come out to fight rain snow or shine," says Albert Saint Jean. He's with Black Alliance for Just Immigration. He says among the misconceptions about black people there are two which particularly bothersome to him. One is that black people have no stake in immigrant rights here in New York. The other is that black people are a single block, like a monolith.
Please click the arrow to hear him and other New Yorkers pushing back against Trump and his nominees.