WBAI Evening News
---
- New York 11/17/2016 by Linda Perry (WBAI News)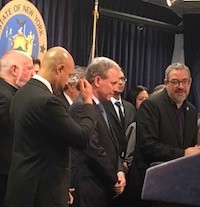 —Civil Rights and Religious leaders gathered at the offices of the NYS Attorney General to stand against the normalization of hate speech and bigotry.
—AG Schneiderman says don't be afraid to report hate crimes to his office. "Do not remain in the shadows. The more people come forward the safer it is for others to come forward. We are united. We are committed to protecting you. We'll do everything we can."
—Please click the arrow above to hear this story and more.