This Is What Democracy Looks Like
---
- New York 11/14/2016 by Linda Perry (WBAI News)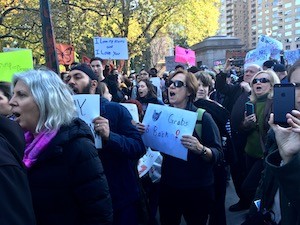 7 year old Violet is frightened by Donald Trump. "I think he's horrible. He's really a racist." The child is one of many children at a rally with their parents in front of the Trump Hotel in Columbus Circle, organized by the immigrant rights group,
Make the Road New York
. Jose Lopez is one of their organizers.
"I think it's people participating in Democracy as it should be. For the last couple of days, there has been a lot of hate, a lot of tears, especially for immigrant communities. There are so many families who are unsure about what this means, what it means for us, what it means for our people, so getting out making sure we're pushing back against hatred, xenophobia, sexism, racism –this is what it's about. It's about thousands of people coming together and really expressing what it means in their eyes to be American, to be out here and to let everyone know across the country that we're all here and we're here to stay."
Please click the arrow above to hear our report and thank you for listening to the WBAI Evening News.