- New York 10/10/2016 by Linda Perry (WBAI News)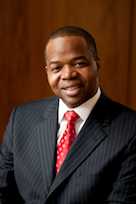 Brooklyn District Attorney Ken Thompson died from cancer on Sunday. Thompson was the first black Brooklyn DA. He was elected in 2013 unseating long time DA Charles Hynes. Colleagues say cancer was diagnosed in August.
During his time in office Thompson worked at reform. He created a unit dedicated to overturning wrongful convictions and a Begin Again program which gives amnesty to those with outstanding warrants. Thompson's office helped people with misdemeanors get second chances. It created gun Buy-Back sessions for people to turn in guns, no questions asked and it stopped prosecuting low level marijuana arrests.
His prosecution of NYPD Officer Peter Liang in the 2014 shooting death of Akai Gurley led to a manslaughter conviction, but Thompson faced mounting pressure. When he recommended no jail time for the rookie cop, he stirred anger and resentment among Gurley's family, police reform advocates and community members.
Ken Thompson would have faced re-election next year. Governor Cuomo may now name a replacement. Cuomo said, "Ken was a dedicated public servant who embodied the highest principles of the law." Assemblymember Diana Richardson said "Thompson's contributions to our community will forever have a lasting impact on the many lives he touched as a champion of social justice."
Brooklyn Borough President Eric Adams said Thompson was more than a colleague. "Ken was was my friend. I am honored to be beside him in the storied history of Brooklyn as the first African-Americans to hold boroughwide office, and I know that many young men and women will reach a bit higher because of the heights that Ken reached in his career and his life. Let us all lift up his family and friends at this most difficult hour, and let us continue to support the men and women of the Kings County District Attorney's Office who will further the mission that Ken Thompson laid out for our borough, city, state, and nation."
Ken Thompson was fifty years old. He is survived by his wife of 17 years and two children.
Viewing and Funeral services are at Christian Cultural Center, 12020 Flatlands Ave, Brooklyn
Viewing: Friday evening October 14, 2016, 3pm to 8pm
Funeral Service: Saturday, October 15, 2016, 10am