New Oliver Stone Snowden Film Highlights the Need to Pardon Ed Snowden
---
- 10/01/2016 by Linda Perry (WBAI News)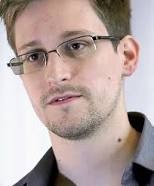 There's a new film out by Oliver Stone, a biographical political thriller on Whistleblower Ed Snowden. In it the magnitude of NSA surveillance which Snowden exposes becomes crystal clear. It shows the extent of the U.S. government's mass indiscriminate and illegal invasions of privacy by the National Security Agency. And the film dramatizes how Ed Snowden as a security analyst with top clearance comes to doubt what he's doing, to the point where he feels he has no choice but to become a whistleblower. Where the film falls short is in not going into the rationale for the government's overreach, its push for a competitive edge between countries, economies and corporations.
According to Snowden. the reason he gave NSA documents to accredited media was to expose the surveillance system in a responsible way, the surveillance system which was rapidly expanding since 9/11, under the guise of the Patriot Act. Snowden did not release any material himself, but gave information to journalists able to deal with national security issues. The careful exchange of material is documented by Laura Poitras in her 2013 film Citizen Four. Along with Glen Greenwald and Ewen MacAskill, she met with Snowden in Hong Kong. The film shows the three receiving the classified documents, carefully planning what to release and when, documents which prove the mass indiscriminate surveillance of populations in the U.S. and throughout the world.
This summer, human rights groups began a push to ask President Obama to Pardon Ed Snowden. The ACLU's Anthony Romero says Snowden's disclosures resulted in widespread reforms both in law and technology, which protected Americans and people throughout the globe. By standing up for the privacy rights of citizens says Romero, Snowden should be thanked not punished and what he did is very different from what Wikileaks does. "Wikileaks self-published all of the documents and cables that were given to them. Ed took the documents and turned them over to respected journalists and the leading newspapers of the world. Quite a different model and it's important to underscore the maturity and interest in serving the public by those revelations."
Human rights groups don't say Snowden didn't break the law, but that there were mitigating circumstances which outweigh punishment. Snowden says, "If we are to sustain a free society through the next century, we must ensure whistleblowers can act again and safely as a check on future abuses."
Please click the arrow above to hear our report and why the Patriot Act doesn't apply in his case. You can sign onto the Pardon Snowden campaign here.